Stories, Players to Follow at Upcoming World Cup
Will you be watching the World Cup when it begins November 20 with the game between Ecuador and host country Qatar?
The soccer tournament is normally played in the summer, but this year it will start in the late autumn and finish in winter. That is due to very high temperatures in the Middle East in the summer.
If you like to watch the World Cup but do not watch world soccer all year long, here are some of the major stories to follow.
How it works
Here's how it works. The 32 teams are placed into eight groups of four. The teams in each group play each other once. Those with the best records move into a 16-team elimination stage. At that point, teams will go home if they lose.
Most days will have four games until the elimination stage begins. The first day with no games is December 7. The final game is December 18.
Top teams
Which country will come out on top?
Brazil's Neymar and Vinicius Junior during training on November 15, 2022. (REUTERS/Massimo Pinca)
The top teams in the world are Brazil, Belgium, Argentina, France and England.
France is trying to win for the second time in a row. Brazil is looking for its sixth championship. Argentina has not lost in 35 games and would like to win one World Cup before Lionel Messi stops playing the sport. England has not played well lately, going winless in six games. But England has done well in recent international events like the European Championship.
Belgium is the second-ranked team in the world and has been considered one of the top teams in recent World Cups. However, the Belgian players who were known as "the golden generation" are getting older. The health of Romelo Lukaku, one of the team's top goal scorers, is in question.
Brazil has two strong players, Neymar and Vinicius Junior, and is currently in good shape. The South American nation is hoping for its first World Cup since 2002.
Top players
Lionel Messi of Argentina is known as the best player in the world. He has won the world's best player award seven times. If he can help Argentina win, he may become known as the best soccer player ever. He is 35 years old and playing well for his team in Paris, but this could be his final World Cup.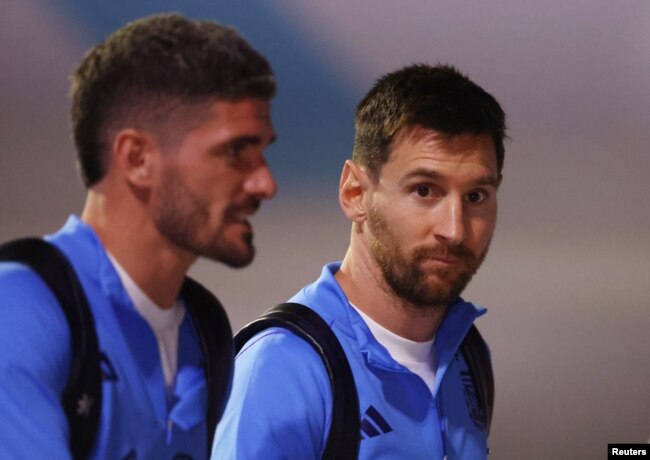 Argentina's Lionel Messi arrives in Doha with Argentina's Rodrigo De Paul for the FIFA World Cup Qatar 2022 on November 17, 2022 (REUTERS/Hannah Mckay)
Cristiano Ronaldo of Portugal is one of the most famous players in the world. He helped his country win the European Championship and has the most-ever goals in international games. However, he has never come close to winning the World Cup, and this will be his fifth try. He is also near the end of his career, so this may the last time he will play in the big tournament.
Kylian Mbappe became famous four years ago when he helped France win the World Cup at just 19 years old. He is even better now. If France wins, Mbappe will match Brazilian star Pele in winning his first two World Cups.
Kevin De Bruyne is Belgium's top playmaker and could help the world's Number 2 team finally win a World Cup.
South Korea is concerned about the health of its top player, Heung-min Son. He is coming back from a facial injury suffered while playing with England's Tottenham Hotspur on November 1. Last year, Son tied with Mohammed Salah of Egypt for the most goals in the English Premier League. Son recently said he would play in Qatar with a protective face covering.
Tottenham Hotspur's Son Heung-min waves to the fans before the match on November 12, 2022. (REUTERS/Dylan Martinez)
Neymar of Brazil is sometimes outshined by Messi and Mbappe, who play with him in Paris. But he is the number-one player for his home country.
Games to watch:
Qatar plays against Ecuador on Sunday, November 20. The first game of a World Cup is always important.
Argentina plays Mexico on November 26. A win would likely put Argentina into the elimination stage.
On November 27, Spain and Germany play. They are two of the recent World Cup winners and experts call them "giants" of world soccer.
Christian Pulisic of the U.S. and teammates pose with players from a construction workers team on November 15, 2022. (REUTERS/Kai Pfaffenbach)
Two days later, on November 29, the United States plays Iran. The countries will meet in the group stage, just as they did in 1998. Some are calling it "The Mother of All Games Part II," as the countries continue to have a difficult relationship after ending diplomatic ties in 1980.
Words in This Story
host –n. an organization (in this case, a country) that provides the things that are needed for an event
tournament –n. a sports competition where a number of games are played in order to determine a winner
elimination –n. the process of removing something
rank –v. to place something in an order
giant –adj. very large or important
https://learningenglish.voanews.com/a/stories-players-to-follow-at-upcoming-world-cup/6839154.html