Record-breaking early voting in 2018 midterms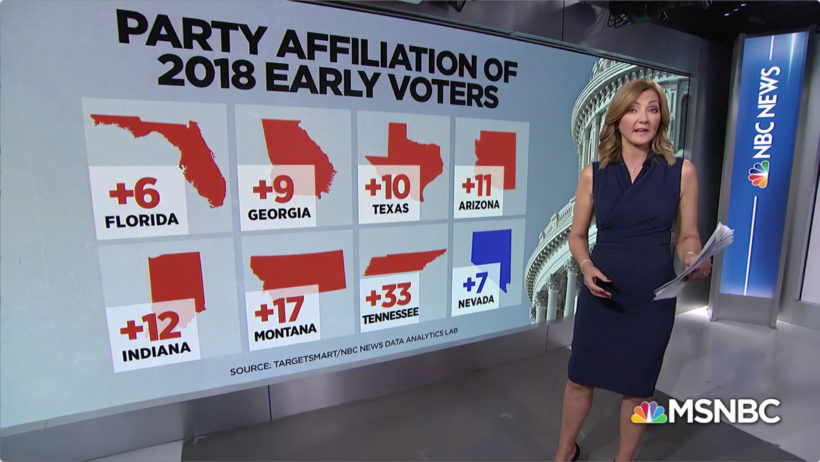 Less then a week away from Election Day, early and absentee voting numbers have already crushed the nationwide figures from 2014 – the last midterm elections, according to several reports.
By Wednesday, 24,024,621 early and absentee ballots have been counted across the country in states with early voting, NBC News reported.
That's almost double the amount counted six days before the elections in 2014 – 12,938,596.
The midterms, in which GOP control of the House and Senate is at stake, has caught the attention of Americans who are turning out in record numbers.
Voters in at least 17 states have already surpassed the overall early and absentee numbers from 2014, University of Florida professor Michael McDonald told the Washington Post.
…In midterm voting, …turnout is typically lower than during presidential election years. [Midterm elections are sometimes regarded as a referendum on the sitting president's and/or incumbent party's performance. The party of the incumbent president tends to lose ground during midterm elections: over the past 21 midterm elections, the President's party has lost an average 30 seats in the House, and an average 4 seats in the Senate; moreover, in only two of those has the President's party gained seats in both houses.]
Turnout of eligible voters nationwide in the 2016 presidential election was 61 percent, but it only reached 37 percent in the 2014 midterms – the lowest for a midterm since World War II.
"We can't know who people are voting for, but we can see who is showing up to vote," McDonald told the Washington Post. "What we're seeing is very high levels of engagement on both sides in the competitive elections for governor and Senate."
In states with marquee races, turnout has doubled or tripled from 2014, NBC News data shows. (See video under "Resources" below.)
In Texas, where liberal Democrat Beto O'Rourke is mounting a strong challenge against conservative Republican Sen. Ted Cruz, 3,978,905 early or absentee ballots were counted by Wednesday – compared to 1,360,966 six days out from the 2014 election.
In Florida, which has competitive races for US Senate and the governor's office, early and absentee voting increased by more than a million – from 1,971,434 in 2014 to 3,030,173 this year.
The data on party affiliations of early voters nationwide, crunched by NBC, shows…as of Wednesday, 43 percent of early voters are Republican and 41 percent are Democrats. …
In the 2014 midterms, Republicans – with 44 percent – held a significant edge over Democrats – with 40 percent. …
In Florida, McDonald said Republican mail-in ballots have surpassed those of the Democrats.
The Democratic socialist Mayor of Tallahassee, Andrew Gillum, is running against GOP Rep. Ron DeSantis in the gubernatorial race, while Democratic Sen. Bill Nelson is being challenged by Rick Scott, the outgoing Republican governor.
"The early vote is slightly favoring the Republicans," McDonald said. "You see this persistent lead for Gillum and Nelson in the polls, but it looks like it's going to be a close election."
Article Source : https://www.studentnewsdaily.com/daily-news-article/record-breaking-early-voting-in-2018-midterms/
ImageSource: https://www.studentnewsdaily.com/wp-content/uploads/2018/11/early-voting_MSNBC-820x462.jpg" class="img-thumbnail" alt="Record-breaking early voting in 2018 midterms
VOCABULARY WORDS
1.Absentee/noun : a person who is expected or required to be present at a place or event but is not.
2.Senate /noun : any of various legislative or governing bodies, in particular.
3.Referendum /noun : a general vote by the electorate on a single political question that has been referred to them for a direct decision.
4.Incumbent /adjective : necessary for (someone) as a duty or responsibility.
5.Eligible /adjective : having the right to do or obtain something; satisfying the appropriate conditions.
5.Republican /adjective : (of a form of government, constitution, etc.) belonging to, or characteristic of a republic.
6.Democrat /noun : an advocate or supporter of democracy.
7.Democratic /adjective : relating to or supporting democracy or its principles.
QUESTIONS
1. How many more people voted in early elections for the 2018 midterms compared to the 2014 midterms, six days before the election?
2. Voter turnout in the United States fluctuates in national elections. In recent elections, about 60% of the voting eligible population votes during presidential election years, and about 40% votes during midterm elections. What was voter turnout in the 2014 midterms?
3. In how many states have early and absentee voters surpassed the overall numbers from 2014?
4. What generally happens to the president's party in midterm elections? Why?
5. Texas and Florida have contentious races that according to the polls are close. What was early voting turnout in these two states?